News
Pirelli Debuts 18-Inch Tires for Formula 1 and Formula 2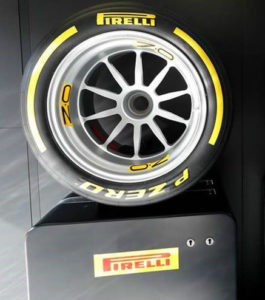 Pirelli debuted their new 18-inch racing tires over the weekend in Monza, Italy, which will be implemented in Formula 2 next year, followed by Formula 1, which currently uses 13-inch tires, in 2021.
Former F1 driver Jean Alesi demonstrated the new tires with a lap around the track in a Formula 2 car. They will be tested at Circuit Paul Ricard in France later this week.
Formula One Managing Director Ross Brawn, FIA Single Seater-Commission President Stefano Domenicali, FIA Formula 2 Championship CEO Bruno Michel and Pirelli's Head of F1 and Car Racing Mario Isola were in attendance to reveal the new tires.
"The eye-catching demonstration run with the new 18-inch tires at Monza, courtesy of a legendary driver who will always be associated with this track, provided a fascinating glimpse of a future that will be with us before we know it," Isola said. "The link between Formula 2 and Formula 1 have never been closer, symbolized by this latest demonstration and display at our home circuit. Now we look forward to track testing some 18-inch Formula 1 prototypes for the first time next week in France."