News
Pirelli Celebrates Italy's Republic Day With Tri-Colored Tires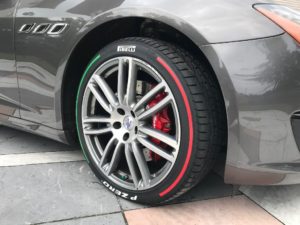 Tire maker Pirelli celebrated the Festa della Repubblica Italiana (Republic Day) with a special tri-color edition of its colored tires produced specifically for the event.
The black tire with red and green stripes and white lettering was donated by Pirelli to the Italian ambassador in the U.S., Armando Varricchio, to mark Italy's national day on June 2.
In a number of countries across the world, Pirelli has celebrated through its product and brand presence. The tri-colored tires will be also fitted on certain Italian embassy vehicles in Germany, the United Kingdom, China, Russia, the United States, the United Arab Emirates and Saudi Arabia, according to the company.
The tri-colored tires were displayed in the Italian diplomatic offices of these countries, as well as Paris, Ankara, Tokyo, Mexico City, Brasilia, Buenos Aires and the Farnesina (the Ministry of Foreign Affairs building in Rome).
Based on its experience in F1 competitions, Pirelli applies colors to road tires with the Pirelli Color Edition, "not only embodying made-to-measure performance but also style and design; emphasizing their sporty, unique character," the company noted.
The colored tires use an innovative technology at the Pirelli plant in Bollate, located just outside of Milan.