News
Philips' Xenon CrystalVision Ultra is 'Brighter and Whiter'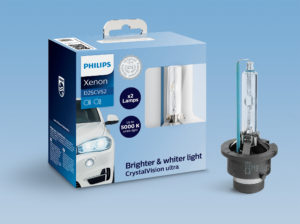 Lumileds claims it is taking HID lighting to the next level with Philips Xenon CrystalVision ultra. This Xenon HID upgrade delivers a brilliant white light with a color temperature of up to 5000K. Designed as direct replacements for standard HID D2S and D2R bulbs, Philips Xenon CrystalVision ultra bulbs produce a beam that is noticeably brighter and whiter than the 4300K color temperature of a standard Xenon HID, according to the company.
The crisp, bright white light of Philips Xenon CrystalVision ultra HIDs is ideal for drivers who are looking for a higher level of style and performance, according to Lumileds. The radiant white light gives vehicles a super high-tech look and the color temperature comes closer to approximating the look of natural daytime illumination.
Philips Xenon CrystalVision ultra HIDs packaging features the Philips Certificate of Authenticity (COA). The Philips COA helps protect consumers from counterfeit Philips lighting products by allowing them to verify the authenticity of the product online, according to the company. More information on the Philips Xenon HID Anti-Counterfeit Program is available at philips.com/original.
Lumileds is licensed to use the Philips brand for its automotive lighting and accessories product portfolio. To find out more: philips.com/automotive or call 1-800-257-6054.