News
Philips Classic Car Lighting Catalog Covers 72 Old School Makes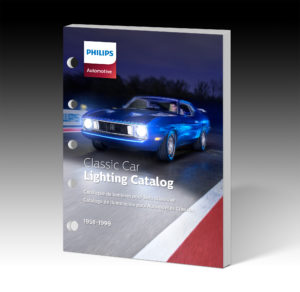 Lumileds has released its new 300-page Philips Automotive Classic Car Lighting Catalog. The catalog, presented in trilingual format, offers a full range of replacement lighting for domestic and import cars, SUVs, light trucks, and vans from 1958-1999. Classic car collectors and enthusiasts can use the catalog to discover the latest offerings in Philips upgrade headlight bulbs, Philips Ultinon LEDs for interior and exterior applications and direct replacement halogen and incandescent bulbs.
"We have significantly expanded our domestic and import coverage for classic vehicles with the addition of 40 new pages of listings," said Jeff Burdzinski, Lumileds product applications manager and ASE certified master technician. "We now offer a broader range of lighting solutions to fit our customers' needs, including many previously hard to find part numbers. The Philips Ultinon LED line of interior and exterior vehicle lighting gives classic car enthusiasts incredible style and performance and the Philips upgrade headlight bulb options ensure that drivers can improve their vision and safety."
In addition to a European/Japanese Interchange listing and an LED bulb interchange guide, the new catalog has import and domestic listings for the Mexican car park, motorcycles and snowmobiles, as well as heavy duty trucks.
The catalog includes light bulb replacements for Acura, Alfa Romeo, AM General, American Motors, Asuna, Audi, Austin, Austin Healy, Avanti, Bentley, Bertone, BMW, Bricklin, Buick, Cadillac, Chevrolet, Chrysler, Citroen, Daewoo, Delorean, Dodge, Eagle, Edsel, Ferrari, Fiat, Ford, Geo, GMC, Honda, Hyundai, Infiniti, International, Isuzu, Jaguar, Jeep, Kia, Lada, Lamborghini, Land Rover, Lexus, Lincoln, Maserati, Mazda, Mercedes-Benz, Mercury, Merkur, MG, Mitsubishi, Nissan, Oldsmobile, Opel, Peugeot, Plymouth, Pontiac, Porsche, Renault, Rolls Royce, Rover, Saab, Saturn, Simca, Sterling, Studebaker, Subaru, Sunbeam, Suzuki, Toyota, Triumph, Volkswagen, Volvo, and Yugo.
For more information, visit Philips.com/automotive or call 800-257-6054.