News
Petersen Museum to Debut Virtual Exhibits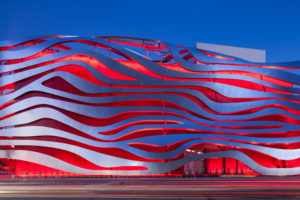 The Petersen Automotive Museum will soon be launching three new virtual exhibits, the museum announced.
The new exhibits are:
Supercars: A Century of Spectacle and Speed
Extreme Conditions, supported by Land Rover
Redefining Performance, supported by Porsche
"Supercars: A Century of Spectacle and Speed" showcases the evolution of the supercar. Notable vehicles on exhibit include several all-time favorites: a 1991 Ferrari F40, 1984 Ferrari 288 GTO, 1998 McLaren F1 LM, and more.
Supported by Land Rover, "Extreme Conditions" highlights 11 custom competition, recreational and utilitarian off-roading vehicles. Vehicles on display will include the "Desert Flyer," a 1989 Porsche 964 raced in the Mexican 1000, "Goldirocks," a rock crawler Jeep raced by the late Jessi Combs and a 2020 Land Rover Defender Trek vehicle. A special feature of the display includes two Zero South Hummer H1s with Mattracks conversions; these vehicles famously traveled over 1,000 miles across Antarctica and through the South Pole.
"Redefining Performance" will highlight Porsche's transfer of technology from the track to the road with vehicles such as a 1951 Porsche 356SL Gmünd Coupe, the 1979 Porsche 935 Kremer K3, and a 2016 Porsche 911 RSR.
Virtual and in-person tours of the exhibits are forthcoming, the museum said.