News
Petersen Museum Now Accepting Submissions for Virtual Concours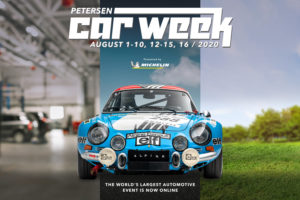 The Petersen Automotive Museum is now accepting submissions for its inaugural Petersen Concours on Aug. 16, the final event of Petersen Car Week, which will be held digitally from Aug. 12-16.
Participants can submit their vehicle to the Concours and be judged in one of nine different vehicle classes, including:
American classic open and closed
European classic open and closed
Postwar Preservation
Ferrari Grand Touring
Postwar Sports
Movie/TV Screen used
Off-Road
Hot Rod
Shooting Brake
A cast of celebrity judges has been selected for the Concours, including Aaron Weiss, Beau Boeckmann, Bill Warner, Bruce Meyer, Craig Jackson, David Lillywhite, David Sydorick, Doug Demuro, Franz von Holzhausen, Fred Simeone, Freddy Hernandez, Gordon McCall, Jay Ward, Jim Grundy, Leslie Kendall, Lyn St. James, McKeel Hagerty, Miles Collier, Peter Gleeson, Peter Mullin, Phillip Sarofim, Stewart Reed and Wayne Carini.
The week-long event serves as a temporary replacement for Monterey Car Week, which was cancelled due to concerns surrounding the COVID-19 pandemic. Programing will include live vehicle debuts, online auctions, exclusive interviews and car shows.
To submit your vehicle, or to see the full schedule of events, click here.