News
Petersen Automotive Museum to Honor Jessi Combs with Special Exhibit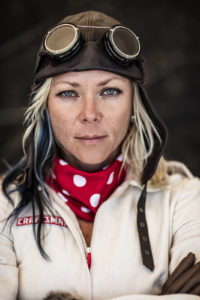 The Petersen Automotive Museum will open a temporary exhibit on Sept. 22, located in the William E. Connor Penthouse, honoring the life and accomplishments of Jessi Combs, also known as "The Fastest Woman on Four Wheels." Jessi tragically passed on Aug. 27, 2019, while attempting to set a land speed record. Admission to the temporary exhibition is by suggested donation with proceeds benefitting The Jessi Combs Foundation.
The "Jessi Combs: Life at Full Speed" exhibition will feature objects from Combs' workshop and studio in Long Beach, California. Items on display will include several of her motorcycles, personal notebooks and memorabilia, original Chip Foose drawings from her time on "Overhaulin'," personal notebooks, welding jackets and racing helmets, as well as various accolades including her Baja and Great Race medals.
"Jessi Combs was an inspiration to the entire automotive community," said Petersen Automotive Museum Executive Director Terry L. Karges. "This exhibit is an opportunity to move people, especially the future generation of women builders and enthusiasts, through Jessi's incredible life story."
"Jessi Combs: Life at Full Speed" will run through Wednesday, Sept. 25 and is free to the general public. Visitors are still required to pay standard general admission prices if they would like to view other Petersen Museum exhibitions. For more information, please visit www.petersen.org/jessi.