News
Performance Shop Connects to Consumers Through Corvette Parade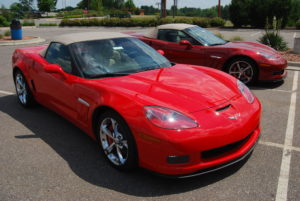 Craig Hanson and H.P. Performance are celebrating the shop's 21st year in business. Hanson, his wife Debbie, and all of the H.P. Performance staff are excited that they are going to be part of Corvette Adventures at the Chula Vista Resort in Wisconsin Dells again this year. The dates of this Midwestern all-Corvette touring event are June 7-9.
H.P. Performance-"located in Mundelein, Illinois-"will sponsor the Parade to the Dells, a Corvette procession around the Wisconsin Dells area, which is a major Wisconsin tourist attraction. According to Corvette Adventures organizer Ed Sarri, H.P. Performance is the Midwest's leader in high performance Corvette upgrades and tuning.
"Their technicians are 16- year veterans and work hard every day to provide the highest level of quality performance work," Sarri said.
H.P. Perfprmance is also the No. 1 Corvette supercharger installer in Illinois and that is only the beginning of their services. From headers, to superchargers, to engine builds, H.P. has become a Corvette performance headquarters location. They are also the manufacturer of many Corvette parts sold through Mid America Motorworks, Ecklers, Corvette Central, Corvette America, Zip Products, Corvette Mods and Vettehead, according to the company.
H.P. also offers car, truck, RV, boat and motorcycle storage in their 40,000-square-foot storage facility. The H.P. storage services include winter storage and year round luxury in/out storage.