News
Parts Pro Recognizes Fastest HROT Perfect Engine Builds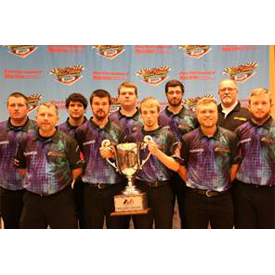 The AAM Group, through its Parts Pro marketing program, presented the Excellence Cup honoring the fastest overall perfect engine build winner to Team Meziere Enterprises from Burton Center for Arts & Tech. The team from Salem, Virginia was coached by Chris Overfelt at the 2017 Hot Rodders of Tomorrow Dual National Championships in Indianapolis.
During the Elite Eight competition, team Meziere broke the national record with a total time of 15:33, shattering the previous record of 16:11 set in November 2015. Their second run was at 15:37. During the team's final run they incurred a five-minute penalty and missed repeating as national champions by three seconds.
The award capped off AAM's pledge to honor every team building a perfect engine in the Elite Eight competition held at the PRI Show.
AAM created The Excellence Cup as a perpetual award that will be kept and displayed by the winning school for one year and then transferred annually to the fastest perfect engine building team among the Elite Eight teams. The base will be inscribed with the team's name and school of all past winners as a perpetual recognition of their accomplishments.
Jerry Simpson, AAM program sales manager presented the awards at the season-finale event conducted at PRI. Teams that achieved at least one perfect engine build during the Elite Eight competition were awarded with a plaque, while the team that clocked the fastest overall perfect engine was awarded with the Excellence Cup.
The other Elite Eight perfect engine build honorees included:
Team Aeromotive, Eastern Oklahoma County Tech Center (Instructor Jim LaFevers)
Team Fragola, Fremd High School, Illinois (Instructor: Steven Elza)
Team Fel-Pro, Tulsa Technology Center, Oklahoma (Instructor: Greg Gilliam)
Team K&N Filter, Burton Center for Arts & Technology, Virginia (Instructor: Steven Hoback)
Team QA1, Forsyth Central High School, Georgia (Instructor: Jacob Cochran)
Team Howards Cams, Lakeshore High School, Michigan (Instructor: Doug Haygood)
Team Derale, Forsyth Central High School, Georgia (Instructor: Marlo Miranda)
Hot Rodders of Tomorrow, which began in 2008 and is sponsored by many of the biggest names in the performance aftermarket, tests the ability of elite student teams to quickly and accurately tear down an engine and rebuild it to operational condition-often in 20 minutes or less. Though participants are certainly drawn to the thrill of competition, the education they receive in the areas of teamwork and technical excellence is designed to give them a head start on careers in the automotive industry. Plus, winners receive scholarship money to help offset the cost of their education.