News
Parts Pro Co-Hosts Hot Rod Drag Week Stopover with Straub Technologies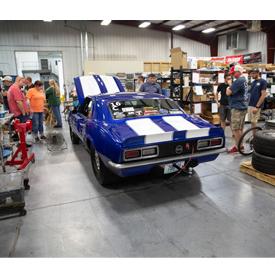 The AAM Group and its Parts Pro marketing brand recently partnered with Straub Technologies to host drivers competing on the 2018 HOT ROD Drag Week circuit for an informal meet-and-greet at the companies' headquarters in Piney Flats, Tennessee.
Straub Technologies owner Chris Straub originated the idea to invite the participants, who were in the area for the Bristol Motor Speedway leg of this year's Drag Week event, which was held in the Southeast U.S. for the first time in its 14-year history. The grueling spectacle tests both the racers' driving skill and endurance, as they compete on four different tracks during the course of five days, and drive more than 1,000 total road miles from venue to venue.
Food and drink were provided for the assembled drivers, who were treated to a tour of Straub's 423 Speed machine shop and AAM's warehouse facilities. They also took advantage of the opportunity to take photos in AAM's state-of-the-art indoor photography and videography studio. AAM Video and Resource Manager Jonathan Fields captured a portion of the event in a Facebook Live broadcast.
A total of seven drivers attended the gathering, notably Troy LaCrone, whose world's-fastest, single-plate nitrous Camaro hit the party, albeit down two cylinders.
Straub Tech's own Scott Foxwell, with assistance from Parts Pro's Donnie Hurt, worked until 6 a.m. the next morning to get LaCrone to the track, where he secured a second-place finish in Big Block Pro Street Power Adder and the fourth-fastest car out of 400 for 2018 Drag Week. LaCrone also was awarded by Hot Rod event staff as having the nastiest sounding car for 2018 Drag Week.
"Drag Week is a one-of-a-kind event that tests both competitors and their machines in performance and endurance," Straub said. "The competitors and fans of this event are truly motorsports fanatics! This was our way of giving back to the racers and the fans. Without them, we wouldn't have a motorsports industry."