News
Pair of Rare Supercars to Raise Money for United Way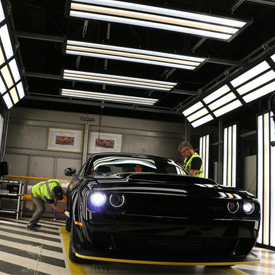 The last 2018 Dodge Challenger SRT Demon rolled off the line last week at the FCA US Brampton Assembly Plant in Ontario, Canada. The limited-production Demon and the last 2017 Dodge Viper hand-built American supercar will be auctioned as a pair at the June 20-23 Barrett-Jackson Northeast Auction with all hammer proceeds from the sale going to the United Way.
After leaving the Brampton plant, the last 2018 Dodge Challenger SRT Demon will travel to an upfit center for its final stages of assembly, which includes adding a hand-painted exclusive Viper Red exterior color, 18-inch aluminum wheels, 18-inch Demon drag radial tires, Demon vehicle badging and a one-of-a-kind VIN instrument panel badging.
Production of the Challenger SRT Demon was limited to one model year and 3,300 units.
The winning bidder at the Barrett-Jackson Northeast Auction, held at the Mohegan Sun Resort in Uncasville, Connecticut, takes home a combined 1,485 horsepower with the 840-horsepower Demon and 645-horsepower Viper.
Production of the V-10-powered Dodge Viper concluded at the Conner Avenue Assembly Plant in Detroit in August. The last production 2017 Dodge Viper is styled in homage to the first-generation Dodge Viper RT/10 with its Viper Red exterior and black interior. The car (VIN ending in 731948) includes exterior carbon fiber accents, black Alcantara leather seats and an exclusive VIN instrument panel badge and authentication kit.
Dodge//SRT and Barrett-Jackson have collaborated before with a 2015 Dodge Challenger SRT Hellcat, VIN0001, that raised $1.65 million  in 2014.