News
Paint Restoration Shop has Two-Year Waiting List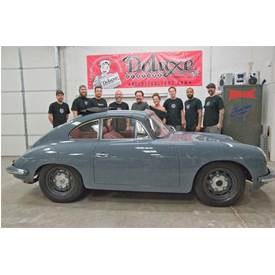 Matt Howard of Deluxe Customs in Tempe, Arizona, has a lengthy waiting list that has him backed up for years. If a customer is looking to get a high-end car restored, especially if it's a classic Porsche 356, the customer will need to get on the shop's two- to three-year waiting list.
Howard has 27 years of paint, body and restoration experience on cars and motorcycles. His skills include metal fabrication, collision repair and complete restoration, all the way to the Concours paint and body standard. His clients usually spend six figures on average to get the job done right.
"We're what is known as a bare metal rotisserie capable restoration facility, specializing in but not limited to Porsche and Volkswagen restoration," Howard said. "Our people have more than 100 years of combined experience, and that's why we have built a reputation for doing complete high-end turn-key restorations."
Pebble Beach Concours d'Elegance's website states that, "to contend in the Pebble Beach Concours d'Elegance, an automobile must be a well-preserved or accurately restored vehicle." Howard is well-known for having the knowledge and skills to do this highly detailed and intricate work.
"A Concours restoration means that if a car has a bolt that came from a hardware store years ago, we'll find it and replace it with an original part," Howard said. "That is how precise and careful we have to be, because these vehicles have to be 100-percent OE without exception."
By meeting deadlines and impressing customers with its employees' work, Deluxe Customs is growing year after year. "We take pride in getting our work done on time," Howard said. "There are some companies out there that have gained the nickname body shop jails, so we stress meeting deadlines with every restoration. We tell people that you'll have to be on a waiting list, but once a car is in the shop, we will do a turn-key restoration for you in 10 months." 
Howard worked at a local shop for 14 years, where he painted approximately 25,000 motorcycles, allowing him to refine his skills. "We were doing 30 a week with my brother Stopher at one point, including the first 5,000 Titan bikes produced in 1995 and a lot of work for Harley Davidson," Howard said. "But after a while I decided to get back to my roots and start my own business and work on cars, instead of painting cookie-cutter bikes all day long.
"I started out in a one-bay shop that held two cars and a spray booth, and today we have seven guys working here in a 10,000-square-foot building," Howard continued. "We have five boys in our family and I work with two of my brothers-Brandon and Stopher-and even though the other two don't work here, we own the property together. Everyone here is like family, including Quintin, Dallas, Dave, Sven and Mason. It's a tight-knit group and we all really appreciate one another."
Something else Howard is very proud of is his 12-year relationship with Prospray Finishes, a product he trusts to please his customers who pay top dollar for that wow factor. "We gave it a shot back in 2005, and now it's our favorite product," he said. "We all use it here. With our former paint company, we were fighting the battle we always do with any product-"quality versus what it costs and what our customers are willing to pay for the work we do. Our old paint was too expensive, and we couldn't pass it on to our clients, so we had to change. We found Prospray after trying a few other brands."
The product is helping Deluxe Customs in two areas that benefit the business-color match and coverage.
"The color matches right out of the computer are OE-accurate 99 percent of the time, and the coverage is exceptional," Howard said. "With every color, including reds, whites and yellows, everything covers in just two coats and reduced one-to-one, so the product goes further. We are saving time and money because of the product's coverage capabilities, which is obviously a huge benefit of using Prospray."
The product is performing at a high level for Howard, but aside from that, he also values the company's customer service level. "We get great support from Prospray, without a doubt," he said. "If we have a problem, we contact our rep and he is here within a few days at most. I had a customer in Santa Barbara, California, who had some questions about his paint job, and they actually went to his home to look at the job and confirm that it was of the highest quality. If we have a problem with anything, they replace it immediately, no questions asked. Prospray's customer service has been excellent."