News
Page-A-Day Workbook Targets Shop Marketing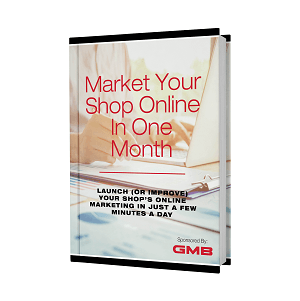 GMB North America now offers an eBook with once-a-day what, why and how exercises to get started with online marketing.
Created for busy auto shop owners, Market Your Shop Online In One Month is divided into simple, daily tasks, according to a press release.
The eBook aims to help shop owners better understand the why of each task and how the tasks complement each other, without diving too deep into marketing jargon and theory.
The 30 daily exercises include creating a professional email address, making a few website adjustments, setting up Google Analytics, creating a tagline and setting up a business Facebook page.
"Our representatives often speak with shop owners who don't know where to start with online marketing or think they just don't have the time to do it," said Sarah Porter, marketing manager, GMB North America. "We're always interested in our customers' success, so this easy, once-a-day workbook is a great way to help shop owners get into basic online marketing without overwhelming them."