News
Original Venice Crew to Offer Completion of Cobras from Shelby Legendary Cars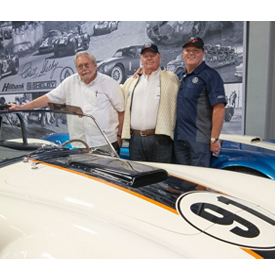 Customers of Shelby Legendary Cars can now send their vehicle for completion to the Original Venice Crew.
Ted Sutton, one of the OVC founders, helped build the prototype 427 Shelby Cobra for Carroll Shelby in 1964. OVC's first project will be the completion of an Essex Wire Cobra tribute big block roadster.
"OVC is giving enthusiasts the opportunity to add incredible authenticity to their Shelby Cobra," said Lance Stander, CEO of Shelby Legendary Cars and Hillbank Motor Co. "Ted Sutton was among the people who built the first Shelby cars during the 1960s. Since Hillbank already offers their OVC built 1965 Ford Shelby GT350 competition cars through our Irvine and Tempe showrooms, it was natural for Ted and the team at OVC to finish Cobras for customers who purchased through us."
Shelby Legendary Cars is the official licensed builder of authentic '60s Shelby continuation Cobras, Daytona Coupes and GT40s. If a customer chooses, Shelby Legendary Cars dealers will supply an assembled body and chassis to OVC. The customer will then specify the exact drivetrain and accessories, according to the company. The new owner can choose to leave the final build at OVC in the hands of the same team that prototyped the original Cobras more than 50 years ago.
The Original Venice Crew built the first series of Shelby American racecars based on '65 Mustang fastbacks. They reunited to build a limited series of the cars in Southern California that are licensed by both Carroll Shelby Licensing and the Ford Motor Co. These authorized versions of the 1965 Shelby GT350Rs feature a race-focused independent rear suspension originally designed at Ford in 1964. Only 36 cars will be built, each incorporating several experimental enhancements designed by Shelby American designer Peter Brock. Hillbank is an authorized dealer for the OVC built cars.
"Rarely has now so convincingly converged with then," said Jim Marietta, CEO of OVC, who also worked for Shelby American in 1965. "For someone investing in a continuation big block, FIA or small block street Cobra, the smallest of details can add up to a huge difference in the finished vehicle. Since we were part of the build of Cobras in the 1960s, we understand the nuances of these very special cars."
OVC's first project will be a tribute to a competition roadster (chassis CSX3009) that has been called the winningest 427 Cobra. It was first campaigned in 1965 under the sponsorship of Essex Wire, Ford Motor Co.'s largest supplier at the time. Essex Wire campaigned the car only one year before moving to a Ford GT-40, but the 427 continued to race at the professional level and at club events until the mid-1980s.
The white Shelby continued to rack up wins for decades. The OVC built car will be identical to that iconic Cobra down to its orange pin stripes.
"An OVC finished Shelby Cobra is like owning a time machine, but one distinctly different from the version dreamed up by H.G. Wells," Sutton said. "Instead of building the car in the present moment, each and every assembly will mentally start around 1964. It's as authentic as you can get."