News
Original Venice Crew Named Official Shelby Mod Shop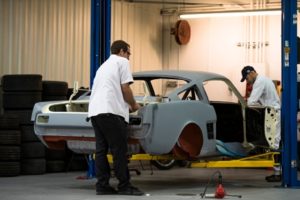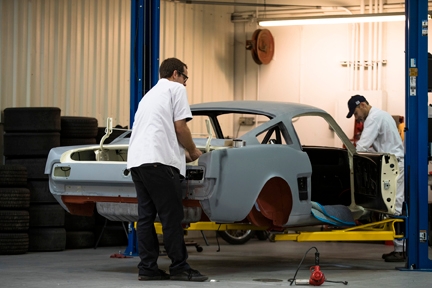 The Original Venice Crew  has become an authorized mod shop in Gardena, California for Shelby American. Owners of contemporary Ford and Shelby vehicles can now have genuine Shelby Performance Parts (SPP) installed at the official Shelby facility in Southern California. The agreement was made during a press event in the headquarters of Carroll Shelby International in Gardena, California.
"Members of the OVC team have been part of the Southern California performance scene since we helped build the first Shelby G.T.350 competition car as employees of Carroll Shelby in 1964," said Jim Marietta, CEO of OVC. "From Ted Sutton to John Morton and Charlie Agapiou, our experts have been making Ford vehicles even faster for over 55 years. Now we're offering that world-championship experience to owners of late model cars and trucks who want to move to the front of the pack."
As an authorized mod shop, OVC will support the Las Vegas Shelby factory by offering genuine SPP components that enhance the handling, styling and power of 2005 and newer Ford Mustangs, F-150s and Shelby vehicles. After intensive training by the Shelby factory team, OVC's Shelby mod shop will sell and install everything from superchargers to handling packages, cooling systems, enhanced brakes and appearance components. According to the company. Shelby factory experts will be actively involved in helping the Mod Shop meet Carroll Shelby's personal expectations for quality and delivery.
In a first for Shelby American, the public can have components installed at the OVC shop inside of the Carroll Shelby International headquarters in Southern California.
"Shelby American was founded in Southern California, so it's exciting that enthusiasts can push the envelope with modifications once again inside one of our facilities there,"  said Gary Patterson, Shelby American president. "Now enthusiasts can tailor their late model Ford or Shelby vehicle with performance and styling components installed by some of those who put the blue oval into the winner's circle worldwide."
OVC began when former Shelby American employees Peter Brock, Jim Marietta and Ted Sutton, who worked on many key projects at Shelby in 1965, reunited to build an authorized continuation car. They had helped build the first R-Model Shelby G.T.350 and Sutton worked on the prototype 427 Shelby Cobra and Sunbeam Tiger while at Shelby in the 1960s.
OVC assembles continuation cars at the Shelby facility in Southern California, just as Carroll Shelby and the racers did in 1965. OVC has licenses from Carroll Shelby Licensing and Ford Motor Co. to build a run of 36 of the continuation 1965 Ford Shelby G.T.350 Competition Model cars. OVC is the only company with this dual authority, according to the company.
A few months ago, OVC's dream team began accepting a limited number of heritage Ford performance vehicles for restoration, repair and upgrades. The difficulty in sourcing the knowledge, talent and parts necessary to maintain these classic vehicles led discerning owners to OVC.
"OVC is the only Shelby authorized location in the world where one can buy a continuation Shelby G.T.350 competition car, have a classic Ford performance vehicle serviced and also install genuine Shelby Performance Parts on late model cars," Marietta said. "And it's the only place where original Shelby employees are installing official Shelby modifications to cars of every era. This is now the ultimate Shelby Speed Shop."
Shelby American is a wholly owned subsidiary of Carroll Shelby International Inc. The company builds authentic continuation Cobras, including the 427 S/C, 289 FIA, 289 street car, Daytona Coupe and Shelby Series 2 component vehicles; it offers the Shelby GT, 1000, Super Snake, and GT post-title packages for the 2005-2019 Ford Mustang.
Shelby American also sells the Shelby Raptor, Shelby F-150 Super Snake and Shelby F-150 trucks. Heritage cars include the continuation 1965 Shelby GT350 competition model, 1967 Ford Shelby Super Snake and 1968 Ford Shelby GT500KR.