News
Oracle Lighting Reveals New Demo Vehicles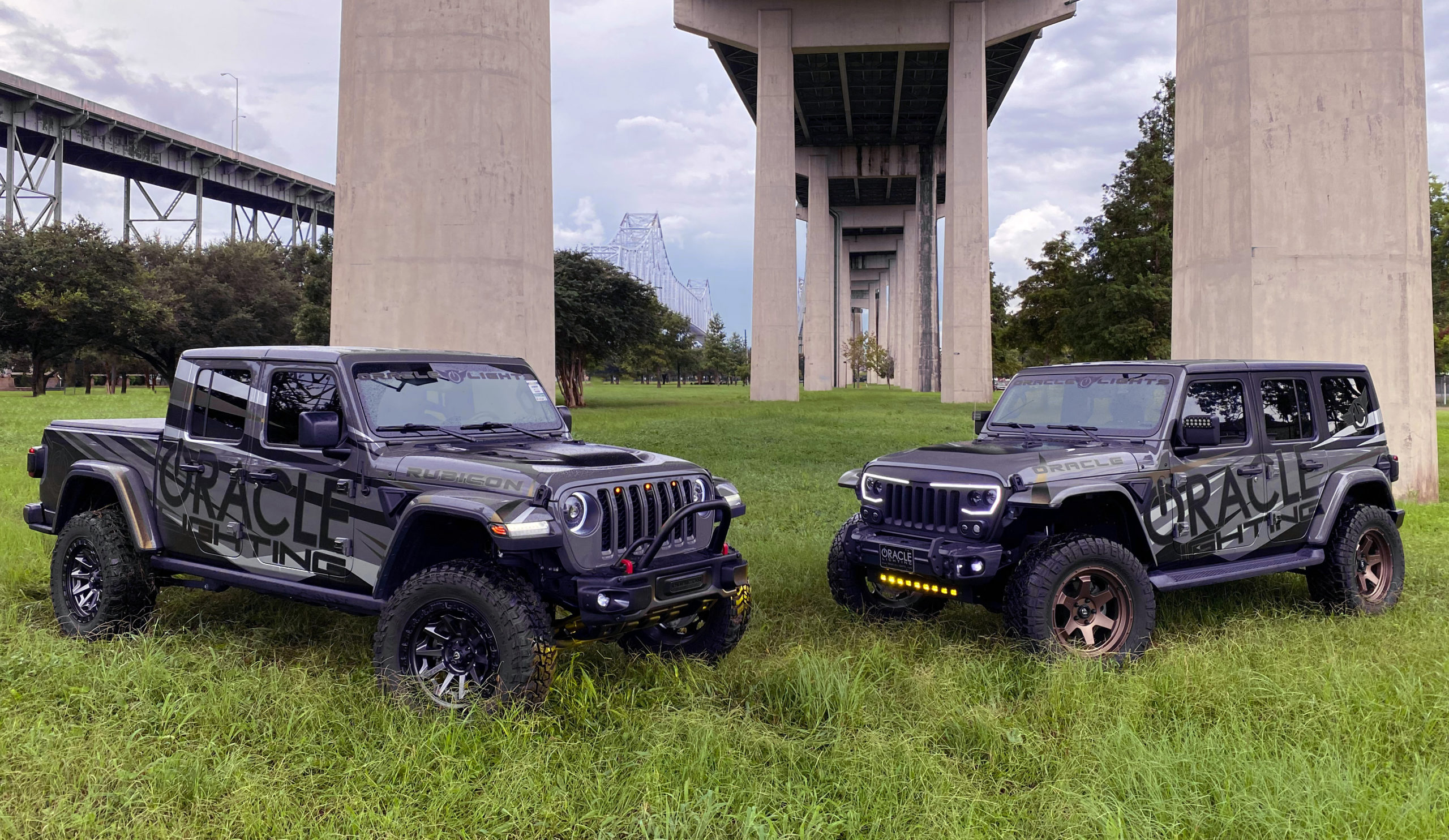 Oracle Lighting, a provider of LED solutions for the automotive/12Volt, power sports, marine and motorcycle markets, has revealed its new Jeep Wrangler and Jeep Gladiator demo vehicles.
"We have been busy developing a wide range of high-performance lighting solutions for late model Jeep applications," explained Justin Hartenstein, Oracle Lighting director of product development. "Now that car shows and outdoor events are starting back up again, we wanted to show customers first-hand what these products look like installed and functioning. The products shown on these vehicles only represent a fraction of Oracle's massive Jeep parts catalog, but these are our latest products and best sellers."
The matching "Sting Grey" Jeeps are splashed with custom Oracle Lighting graphics installed by PGNOLA. Both Jeeps are modified and lifted with custom 20-inch Fuel Wheels with 35-inch tires, and feature bumpers from Rugged Ridge.
The Jeep Wrangler JL Unlimited features exterior lighting products including the Oracle Vector Pro-Series Grill, Dynamic LED Wheel Rings, ColorSHIFT Rock Lights, Sidetrack fender lighting system, Oracle LED Fog Lights, LED Sidemirrors, Black Series LED Tail Lights, new LED front Skid Plate and more. The interior accessories include Oracle's StarLINER Fiber Optic Headliner and Oracle's multifunction LED Cargo Lighting.
The Jeep Gladiator Rubicon features exterior products including Oracle's signature Oculus Bi-LED Headlights, LED Fog Lights, White Rock Lights, High-Powered LED Reverse Lights, Flush LED Tail Lights, Smoked LED Sidemarkers, Sidetrack lights and Pre-Runner LED Grill lights. The Gladiator's interior accessories include Oracle's StarLINER Fiber Optic Headliner and Fiber Optic Dash Kit.
These vehicles will make their event debut at "WAM" (We Are Mopar) show in Dallas, Sept. 3-5. The event takes place at Texas Motor Speedway. Oracle Lighting will play host to Mopar enthusiasts as the title sponsor of WAM's "Friday Night Lights" event on Sept. 3.
Other Jeep events on Oracle's calendar include Great Smoky Mountain Jeep Invasion in Pigeon Forge, TN, Jeep Beach in Daytona, FL, Jeepin' the Coast in Long Beach, MS, Jeep Beach Jam in Panama City, FL, and the SEMA Show in Las Vegas, NV.
"We are excited to be attending so many off-road shows this year throughout the country, and we welcome you to stop by and see our products in person," said Melissa Parker, Oracle Lighting national sales manager.