News
Oracle Lighting Named Finalist for SEMA 2021 Manufacturer of the Year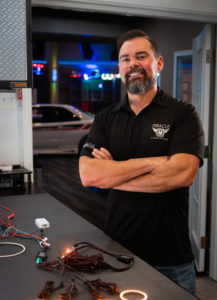 Oracle Lighting has been named a finalist for SEMA's Manufacturer of the Year and Founder Justin Hartenstein has been named a finalist for the SEMA Gen-III Innovator of the Year award, the company announced.
The Manufacturer of the Year Award is presented annually to recognize one company that represents the industry's core values through innovative processes and products, outstanding business practices, workforce excellence, protection of brand equity and active SEMA participation in the support of the automotive aftermarket, the organization said.
"We are incredibly proud to be finalists for two industry awards, and it is an honor to be recognized in our first nomination for Manufacturer of the Year," said Tiffanie Hartenstein, Oracle Lighting chief executive officer. "Our team values the opportunity to be an engaged member of SEMA and to contribute to the continued success of the automotive aftermarket industry. As a company, we thrive on innovation in all aspects and are committed to fostering growth in spite of the challenges our industry has faced. We are excited to represent the values that propel us forward in enriching the aftermarket experience."
One of just two individual awards that the SEMA organization presents each year, the Gen-III Innovator is an honor given to a young innovator who exhibits the same pioneering spirit as the original industry founders, the organization said. According to SEMA, the Gen-III Innovator of the Year recognizes individuals whose work is changing the way the automotive aftermarket does business. He or she may have been the first to act on a new trend, invented an original product or devised and implemented ideas that better suit the current automotive marketplace.
"It is truly an honor to be named a finalist for an award that recognizes hard work and innovation in such a large and dynamic industry," said Justin Hartenstein, Oracle Lighting director of development who founded Oracle Lighting in his garage in 1999. "And to top it off, Oracle Lighting has received another prestigious honor as being named a finalist for Manufacturer of the Year. I would like to congratulate our team for making this happen as 2020 and 2021 have been tough on our industry and, despite this challenge, Oracle Lighting has continued to accelerate and grow."
The SEMA Industry Award winners will be announced and recognized during the SEMA Industry Awards Banquet at The SEMA Show in Las Vegas, Nevada.