News
Oracle Lighting Continues Youth Outreach Despite Hurricane Evacuations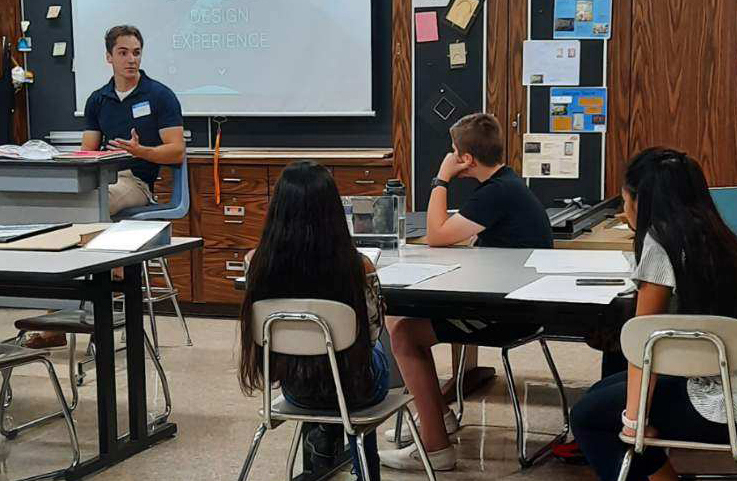 Oracle Lighting continued its youth engagement outreach despite Hurricane Ida evacuations, the company said.
Anthony Hostetler, an Oracle Lighting industrial designer, was one of many who were evacuated from Louisiana during the recent hurricane. Hostetler took the opportunity to visit his hometown high school of Westview Jr-Sr High School in Topeka, Indiana to speak with an Advanced Drawing class about the automotive design industry.
"Many students have a limited idea of the options they have when entering a creative field, and I welcomed the chance to show them a different avenue of thinking and a unique way to use their artistic talents," explained Hostetler. "These students were receptive to learning more about how automotive design blends creativity and technical skill."
Hostetler's presentation included a day-to-day look at his position with Oracle Lighting and his journey to finding the industry. He also demonstrated standard design processes and technology, including the company's new 3D scanning system. Before concluding with a question-and-answer session, Hostetler showed students some of the latest projects from Oracle Lighting including custom Deluge D12 hypercar exterior lighting and flush-mount tail lights for the Jeep Gladiator.
"Early exposure to this field is important for those considering a future career in our quickly adapting industry, and these opportunities for youth outreach allow us to foster curiosity in new generations," continued Hostetler. "Investing time into these students is the first step to helping them to cultivate a mindset of ingenuity and develop their skill set that could later benefit the automotive design industry."
In August 2021, Hostetler also hosted two local high school students at Oracle Lighting's Louisiana headquarters for a similar exploratory workshop. These students also had the chance to job-shadow the industrial designer at work.
"We welcome the opportunity to expand our youth engagement programs, and this chance during hurricane evacuations was an unexpected benefit," said Justin Hartenstein, Oracle Lighting founder and director of product development. "At Oracle Lighting, we recognize the importance of supporting future innovators and sparking their interest in the automotive market. Planting that seed in young minds is the key to continuing to push our industry forward into the future."