News
Öhlins Racing Enters Technical Partnership with Scuderia Ferrari F1 Team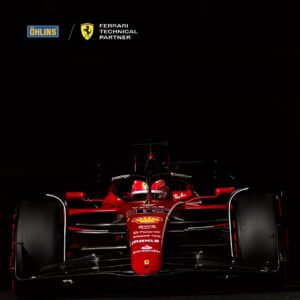 Ӧhlins Racing has entered into a technical partnership with Scuderia Ferrari, which campaigns the two F1-75 cars – driven by Charles Leclerc and Carlos Sainz – in the Formula One World Championship, the company announced.
"We are excited and proud to announce our formal technical partnership with Scuderia Ferrari and to be able to work in collaboration with one of world's most prestigious vehicle manufacturers," said Henrik Johansson, managing director Öhlins Racing AB.
Ӧhlins engineers have worked closely with the Ferrari team for more than five years, the company said. Now, as a Ferrari Technical Partner, it will advance and accelerate the development of suspension technologies that help maximize on-track performance, according to Claes Hesling, Director Auto Racing, Ӧhlins.
"It all started with a short email back in 2015," Hesling said. "Since then, the technical collaboration between Scuderia Ferrari and Öhlins Racing has grown stronger every year. I am very proud of the work we have accomplished together during this time. Now, as an official Ferrari Technical Partner, I am very much looking forward to creating an even stronger bond between Scuderia Ferrari and Öhlins Racing for the future."