News
Ohio State & Wilberforce University Team Wins EcoCAR EV Challenge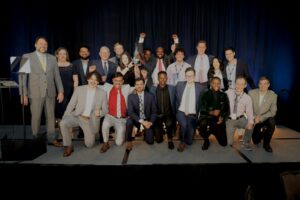 The Ohio State (OSU) & Wilberforce University Team has been named the winner of Year One of the EcoCAR Electric Vehicle (EV) Challenge, competition officials announced.
The combined team takes the lead in the four-year collegiate engineering competition. West Virginia University took second place and University of Alabama finished third in the judged competition, officials said.
Managed by Argonne National Laboratory and sponsored by the U.S. Department of Energy (DOE), General Motors, and MathWorks, the EcoCAR EV Challenge is a cross-disciplinary competition among 15 North American universities designed to build an EV talent pipeline through cutting edge automotive engineering education and practical application, organizers said.
Participating teams are tasked with complex, real-world technical EV challenges, including enhancing the propulsion system of a 2023 Cadillac LYRIQ to optimize energy efficiency while maintaining consumer expectations for performance and driving experience throughout the four-year competition, program officials said.
"Year One of EcoCAR is all about generating big ideas and developing a strategy for the remainder of the competition," said Acting Assistant Secretary for Energy Efficiency and Renewable Energy Alejandro Moreno. "These students are already demonstrating the capacity and drive needed to pursue careers in the EV sector and become trailblazers in the mobility industry."