News
ODYSSEY Batteries to Power Hailie Deegan Forward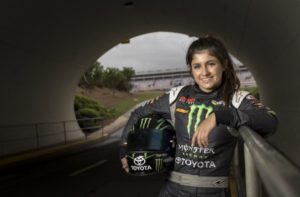 EnerSys has renewed its sponsorship of Hailie Deegan in the Lucas Oil Off Road Racing Series (LOORRS).
EnerSys, maker of ODYSSEY Battery products, has sponsored the 16-year-old Deegan since 2016. Deegan was the first female to win a championship in the LOORRS, winning both the Modified Kart (2016) and the Junior 2 Kart (2103) titles. She also is a member of the NASCAR Next Class and is the youngest driver to be selected and the only female.
Deegan this season will be driving in all NASCAR Pro Series West events and select east races. She is the daughter of action sports legend Brian Deegan.
"ODYSSEY batteries powered me to both of my championships. They were one of my first sponsors and they have always believed in me. I am excited to continue this relationship with them as I continue my evolution as a racer," Deegan said.
As an official sponsor, the ODYSSEY battery logo will appear on the quarter panels of Deegan's No. 38 Toyota pickup in the Pro-Lite LOORRS and on the Deegan Racing transporter. The ODYSSEY battery logo also will appear on the driver's suit, posters and social media.
"We are very proud to be continuing our relationship with Hailie. She is one of the most promising of the new generation of drivers and shows there is a bright future for the sport," said Dave McMullen, senior director of reserve power marketing at EnerSys. "We look forward to having ODYSSEY batteries provide the start to another season for her."
For more information, visit Enersys.com.
Hailie Deegan's 2018 Schedule:
LOORRS
June 24 Lucas Oil Speedway, Wheatland, Missouri
Sept. 22 Glen Helen Raceway, San Bernardino, California
Oct. 20-21 Wild Horse Pass Motorsports Park, Chandler, Arizona
NASCAR Pro Series West
May 5, Tucson, Arizona
May 19, San Bernardino, California
June 9, Dacono, Colorado
June 23, Sonoma, California
June 30, Roseburg, Oregon
July 15, Airway Heights, Washington
July 27, Newton, Iowa
Aug. 11, Monroe, Washington
Aug. 24, Madison, Illinois
Sept. 13, Las Vegas, Nevada
Sept. 29, Meridian, Idaho
Oct. 13, Roseville, California
Oct. 27, Bakersfield, California
NASCAR Pro Series East
April 14, Bristol, Tennessee
June 2, Millington, Tennessee
July 21, Loudon, New Hampshire