News
Nominations for SEMA Council Awards Now Open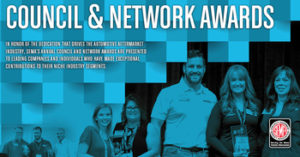 Nominations for the 2020 SEMA Council and Network Industry Awards are now open, the organization has announced.
The SEMA Council and Network Awards are presented to leading companies and individuals who have made exceptional contributions to their niche aftermarket segments.
To be considered for an award, nominees must be an existing member of at least one of SEMA's nine councils or networks and have significantly enhanced or influenced the stature and growth of the industry.
Learn more about each SEMA Council and Network Award and nominate your candidates here:
Automotive Restoration Market Organization (ARMO)
Emerging Trends and Technology Network (ETTN)
Hot Rod Industry Alliance (HRIA)
Motorsports Parts Manufacturers Council (MPMC)
Professional Restylers Organization (PRO)
Truck and Off-Road Alliance (TORA)
SEMA Businesswomen's Network (SBN)
Wheel and Tire Council (WTC)
Young Executives Network (YEN)
This year's winners will be announced at the 2020 SEMA Show in Las Vegas this November, and MPMC's award winner at the 2020 Performance Racing Industry (PRI) Show in Indianapolis in December.