News
NFIB Launches Small Business Podcast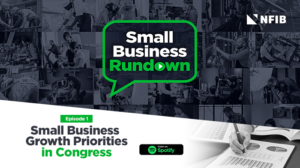 The National Federation of Independent Business (NFIB) has launched a new national podcast, titled Small Business Rundown, the organization announced.
The podcast will grow to feature NFIB experts, small business owners, and others discussing and analyzing how legislative efforts in Washington D.C. and state capitals across the country impact small businesses, the organization said.
The first episode features NFIB's advocacy priorities for the new two-year session of Congress and what small business owners can be watching for. New episodes will be released every other Thursday.
Click here to listen. Episodes are also available on Spotify.