News
Nexen Tire Updates Mobile App, Website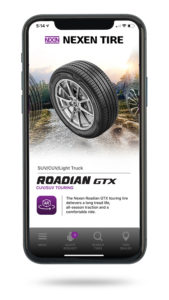 Nexen Tire, a manufacturer of high-performance, passenger, SUV/light truck and winter tires, announced the launch and availability of its all-new mobile app.
In addition to the standard year, make and model or tire-size searches, consumers can also use the app's Vehicle Identification Number (VIN) scanner tool to find the precise tire for their vehicle.
The app also features an interactive augmented reality (AR) function allowing consumers to visualize in real-time how a new set of Nexen tires will look on their vehicle. Nexen Tire's new app also features a Dealer Locator search function which allows users to request more information and even request an appointment at their nearest Nexen Tire dealer.
In addition to the new app, the company's website has received several updates to its Dealer Finder tool. Consumers can use this tool to connect with an authorized Nexen Tire dealer.
"Shopping for tires can be confusing and complex, but it doesn't have to be and we're confident our all-new app will help simplify the process for drivers everywhere. We want to make tire shopping as fun and easy as possible, while also ensuring customers feel confident with their decisions. We believe our app and the updates to our website do that for our customers," said John Hagan, executive vice president of sales for Nexen Tire America, Inc. "By seamlessly integrating the process of finding the perfect tire and the ability to request an appointment, we've given our customers the perfect one-stop-shop for their tire-buying experience."