News
Nexen Tire Selected for Dodge Challenger R/T Scat Pack 1320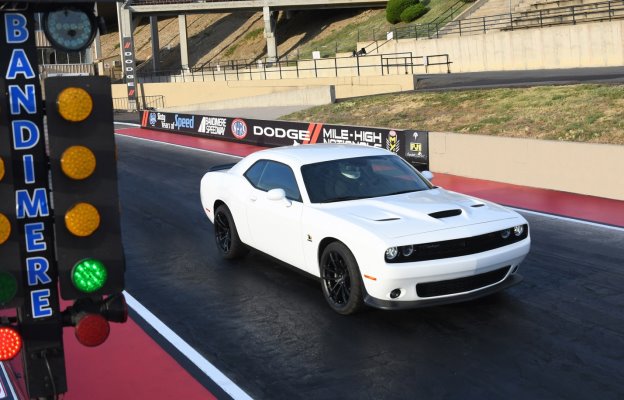 Dodge has selected Nexen Tire for the debut and launch of the new 2019 Dodge Challenger R/T Scat Pack 1320. The Nexen N-FERA SUR4G Drag Spec tire was designed together with Dodge and a team of engineers at SRT to create a street legal drag tire that can perform on tracks with either minimal track preparation or full track preparation, according to Nexen Tire.
The Challenger R/T Scat Pack 1320-named for the quarter-mile distance of 1,320 feet-is powered by the 392 HEMI V-8 that delivers 485 horsepower and 475 lb.-ft. of torque and is mated to the TorqueFlite eight-speed automatic transmission with class-exclusive TransBrake. According to the company, the showroom-stock 2019 Dodge Challenger R/T Scat Pack 1320 is the fastest naturally aspirated, street-legal muscle car available with a quarter-mile elapsed time of 11.7 seconds at 115 miles per hour.
The Nexen N'FERA SUR4G Drag Spec will come in only one size (275/40R20 102W) and it will be a street-legal drag radial tire. The tread pattern is a non-directional pattern that allows unrestricted tire rotation to extend the life of the tire at the drag strip. The proprietary tread compound is exclusive to Dodge and the Challenger R/T Scat Pack 1320, according to the company.
"We are an incredibly passionate group of racing enthusiasts here at Nexen Tire with a strong motorsports heritage of designing tires that perform incredibly well on the track, but also can be daily street tires," said Kyle Roberts, marketing director at Nexen Tire USA. "To be selected by one of America's favorite muscle car brands was humbling for Nexen Tire as we strive to build the highest in quality tires, but to still make them affordable for the average consumer.
"Dodge and SRT continue to be an industry leader in building out performance cars that buck the system," Roberts continued. "When other automakers are moving away from motorsports, Dodge jumps in with multiple cars that are race inspired. The Challenger R/T Scat Pack 1320 is one of them."
For more information, contact nexen@godriven360.com.