News
New Super Late Model Dirt Series to Launch in 2022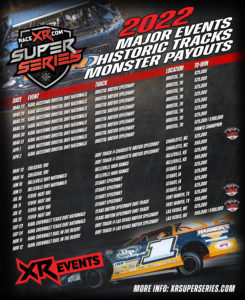 X.CELERATED is forming a national, 20-race super late model dirt series called the "XR Super Series," which is set to begin in 2022.
The XR Super Series began as an initiative in 2021 to produce and promote major dirt racing events for super late models featuring class superstars and backed by high-paying purses and enticing financial bonuses, series officials said. The goal of the XRSS is to complement existing racing schedules with additional opportunities and to reward independent drivers and teams who choose to race these events, series founders said. All 20 scheduled events will be officially sanctioned as XRSS races with a newly established rulebook and a full-time, in-house technical inspection team.
The XR Super Series will feature stops at Bristol Motor Speedway (Tenn.), the Dirt Track at Charlotte Motor Speedway (N.C.), Belleville High Banks (Kan.), Stuart International Speedway (Iowa), the Texas Motor Speedway Dirt Track (Texas) and The Dirt Track at Las Vegas Motor Speedway (Nev.).