News
New Speed Festival Brings 'World-Class Motorsports' to Sonoma Raceway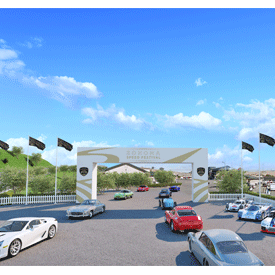 The Sonoma Speed Festival will hold its debut event May 30 to June 2 at Sonoma Raceway in Sonoma, California. The festival will feature 10 race groups spanning the history of motorsports, from the brass era to the modern age competing on track, along with world-class food and wine options and interactive displays for both casual and hardcore enthusiasts. The deadline for drivers to apply for entry is Feb. 28.
Already planned to appear at the event is a Porsche 917K, a Ferrari 250 GTO and a Lotus 77 Formula 1 car. More than 220 vehicles will be involved, with more planned to be announced in the coming months.
The Sonoma Speed Festival will be set among the scenic rolling hills and dramatic corners at Sonoma Raceway. Attendees will enjoy a craft beer garden and a wine pavilion featuring wine tastings and gourmet food pairings.
"The team organizing this event have attended the best motoring events in the world and want to bring that world-class level of execution and experience to one of the best race tracks in North America," said Ryan R. Turri, general manager of the Sonoma Speed Festival. "We've brought in teams that have worked on the most highly regarded automotive events and museums across the globe. This is an opportunity to see the most significant motorsports icons in action while enjoying the luxuries and comfort of a European-style motoring event."
The Sonoma Raceway's 50 year anniversary is this year. The milestone will be acknowledged by the Historic Trans-Am class, created to celebrate the legendary Trans-American Championship race hosted there in 1969. The racing class will feature competition between Ford Mustangs, Chevrolet Camaros and AMC Javelins.Nine other race groups will be compete at the Sonoma Speed Festival.