News
New Off-Road Accessory Company Hopes to Solve Light Bar Noise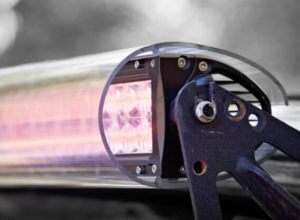 A new off-road lighting accessories manufacturer has taken to the market to solve one of the most persistent problems for owners of LED light bars: noise and wind drag at high speeds.
St. Louis-based AeroLidz is the creator of an aerodynamic light bar silencer that eliminates the wind noise and wind drag made by LED light bars when traveling at high speeds. Inventor and founder Gabe Warner knew he needed a solution the moment he hit the open road with his new LED light bar last Christmas.
"The wind created a horrible jet engine noise mixed with a train whistle," Warner said.
After hours of research and DIY-solutions, Warner created what he now calls AeroLidz, marketed as "the first aerodynamic light bar cover on the market," according to the company.
"AeroLidz provides sleek, quiet light bar covers that fit any and all 50- and 52-inch light bars," according to a company news release. "With an AeroLidz light bar cover, Jeep, truck, and off-road enthusiasts can be as unobtrusive or as fashionable as they like. AeroLidzs' transparent light bar covers are offered in clear and smoked, with a wide array of insert options to enhance your vehicle theme. Some of the more creative stock inserts include American flags, bald eagles and popular phrases found in the off-road market today. The ability to custom print your own designs will soon be available."
Customers will have the ability to upload their own designs, personalized to each order, according to AeroLidz.
"Now, I have people telling me they're installing their light bars back onto their trucks, just because of AeroLidz," Warner said. "Our product provides an aerodynamic solution without having to remove your device-"problem solved."
Aerolidz will exhibit this year at the Oct. 30-Nov. 2 SEMA Show in booth No. 52114.