News
New Retrax Rail System Wins 'Best In Truck' at Keystone Show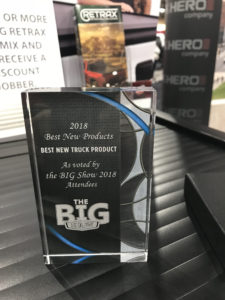 Retrax, a Truck Hero company, won the Best in Truck award at the Keystone BIG Show for its TRAX Rail System. The product was featured on a RetraxPRO MX in the New Product Showcase at the show, which was held in February in Grapevine, Texas.
"Retrax's trusted-core jobbers voted and chose the TRAX Rail System, showing us that there is excitement for the product and a need for rack integration with truck bed covers," said Andy Nephew, Retrax national sales manager. "Our TRAX Rail System will accommodate rack systems from all major manufacturers and offer a great solution for customers in a new, emerging market."
The integrated TRAX Rail System features T-Slot bars that offer truck owners personal customization options above the cover. Users can combine it with accessories from major manufacturers like Rhino Rack, Yakima, Thule and many more. Pairing the TRAX System with accessories can double the cargo capacity, according to the company.
The TRAX Rail System will be available for existing owners to add to any Retrax MX (matte) cover like the RetraxPRO MX and as a complete package in the Retrax XR Series. The XR Series and the TRAX Rail System have a tentative release date in mid-2018.