News
New Petersen Exhibit to Celebrate Porsche Anniversary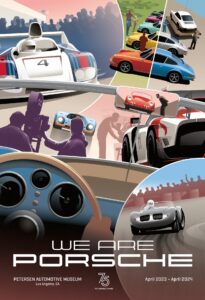 Porsche will mark its 75th anniversary with a new exhibition of Porsche vehicles at the Petersen Automotive Museum, the museum announced.
In collaboration with Porsche Cars North America, Inc. (PCNA) "We Are Porsche" opens to the public on April 16 and focuses on how influential figures in the U.S. helped transform Porsche from a builder of niche sports cars to a cultural phenomenon over the past 75 years, the manufacturer said.
In all, the exhibit will include more than 40 vehicles on the museum's first and second floor, including:
The 1953 550 Spyder raced by Betty Shutes and Ken Miles
The 1958 Carrera GT Speedster raced by Bruce Jennings, which became the winningest Carrera GT Speedster in history
The original "Outlaw Porsche," Dean Jeffries' custom 1957 356 Carrera
Porsche's first and only Formula 1 racer, Dan Gurney's 1962 Porsche 804, which claimed Porsche's only two Formula 1 victories
The Herbert Brundage/Brumos 1973 911 2.8 RSR driven by Peter Gregg and Hurley Haywood, which won both the IMSA and Trans Am championships
The 1973 917/30 Can-Am Spyder driven by Mark Donohue, one of the most powerful and successful race cars of its era
Steve McQueen's 1976 911 Turbo
Porsches showcased in Hollywood blockbusters "Top Gun: Maverick," "Glass Onion: A Knives Out Mystery" and beginning in October, "Cars"
The exhibit will also highlight the stories of people who have contributed to Porsche's popularity, including Patrick Dempsey, Steve McQueen, Dan Gurney, Hurley Haywood, Ken Miles, "The Spyder Women" (Betty Shutes, Ruth Levy and Denise McCluggage), Patrick Long, Rod Emory and Daniel Arsham.
"As a Porsche lover, I'm particularly excited that the Petersen gets to play such a significant role in celebrating the 75th anniversary of these incredible machines," said Terry L. Karges, executive director of the Petersen Automotive Museum. "Porsche's history on and off the track speaks for itself, and we are honored to help them commemorate this milestone."
"Porsche is as an iconic brand that took off in America, thriving in California's car culture," said Kjell Gruner, President and CEO of PCNA. "From there, the love for the brand spread around the world. We are delighted to celebrate our 75th anniversary at the Petersen Automotive Museum – the center of car culture in Los Angeles – with such a unique exhibition."
"We Are Porsche," will run through April 2024 and will feature a rotation of vehicles, events and activations during its tenure, museum staff said.
Click here for more information.