News
New Leadership Takes the Wheel at Circuit of The Americas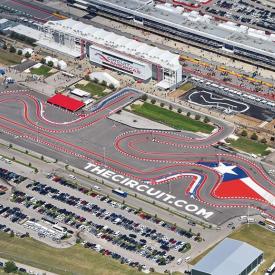 A new leadership team is looking to take Circuit of The Americas in Austin, Texas, to the next level.
Since 2012, COTA's world-class racing events—including the Formula 1 Emirates US Grand Prix, the Red Bull MotoGP Grand Prix of the Americas and the AutoNation INDYCAR Challenge—live concerts, major festivals and holiday attractions have attracted more than 4 million visitors and generated $5 billion in revenue to Central Texas, according to the facility.
With a new leadership team in place, COTA is looking to expand and redefine its guest experience.
"Building on what is already a world-class brand, the experience of our new leadership team will help us expand to offer a greater array of experiences for our partners and fans," says Bobby Epstein, COTA chairman. "We're expanding to become a multipurpose family destination—a place where fans, friends and families come to make lifelong memories."
Over the next year, Epstein says, COTA will continue to enhance guest experiences with new technologies as well as host premier entertainment for entire families to enjoy.
He leadership team combines decades of experience in entrepreneurship, sales, sports marketing, technology and customer engagement. It includes:
Tim Prukop, chief revenue officer, who came from VenueNext Inc., where he worked with major sports stadiums;
Rick Abbott, executive vice president of operations, who once served as vice president of operations at NBCUniversal in New York City;
Eric Bechtel, founder and president of IdeaQuest LLC, a marketing executive known for his extensive industry and racing relationships;
And Jeff Marks, chief executive officer at IPG360, a sports business executive with more than 20 years of experience working with C-level executives at Fortune 500 companies, sports teams, leagues, venues, governments, universities, franchise owners and investors.
COTA has partnered with sports marketing consultants IdeaQuest, a sales solutions firm led by Bechtel, and Innovative Partnerships Group (IPG360), an elite naming-rights agency led by Marks, to offer next-generation sponsors one of one partnership opportunities including entitlements and branded zones at COTA.