News
New 'Intelligent' EV Launching at CES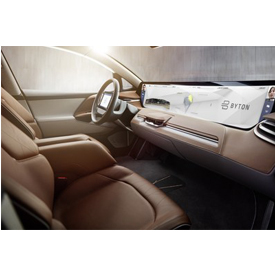 A start-up tech company called BYTON is debuting a new "smart intuitive" vehicle at the Jan. 9-12 CES Show in Las Vegas. The car, described as a next-generation smart device, is built for the coming era of truly shared, smart mobility and autonomous driving, according to the company.
Vehicle features will include:
Shared Experience Display–Multiple display screens enabling content shown to be shared with other passengers in the car
Human-Vehicle Interaction-In addition to voice recognition, touch control, biometric identification and necessary physical buttons, the car features air touch sensors, enabling front and rear passengers to control the Shared Experience Display with hand gestures
BYTON Life Cloud Platform–This platform connects a driver's or passenger's apps, data, and devices, allowing them to take full advantage of their travel time whether for work or entertainment. BYTON Life also provides personalized services and configurations that are automatically adjusted to users' preferences
BYTON Intuitive Access-This advanced secure unlocking method uses facial recognition cameras to recognize the driver or passenger in unlocking the door
Interior and Exterior Digital Design-Among other digital design features, unique BYTON Smart Surfaces composed of front and rear LED lights and a luminescent logo can switch to different display modes to suit different driving scenarios.
BYTON is a start-up company rooted in China that "aspires to build premium intelligent electric vehicles for the future" for customers around the world. The company's global headquarters, manufacturing base and R&D center are located in Nanjing, China, while its North American headquarters, devoted to intelligent car experience, autonomous driving, whole vehicle integration and other cutting-edge technologies, is based in the Silicon Valley, California. The company's vehicle concept and design center is located in Munich, Germany. BYTON also has offices in Beijing, Shanghai and Hong Kong.