News
Business New Hampshire Magazine Names Hypertherm as Manufacturing and Technology 'Business of the Decade'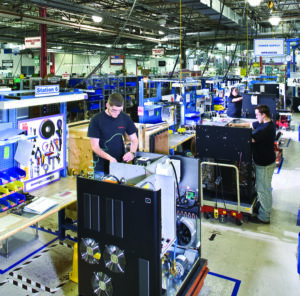 Hypertherm, a U.S. based manufacturer of industrial cutting systems and software, announced its selection as a Business of the Decade winner by Business New Hampshire Magazine and the New Hampshire Association of Chamber of Commerce Executives. Hypertherm earned the top spot for the Manufacturing and Technology category joining organizations in eight other categories including Health Care, Financial Services and Insurance, Retail and Wholesale and Tourism and Hospitality.
Hypertherm was invited to apply by virtue of its selection as a Business of the Year during the preceding decade. Nearly 50 judges participated in scoring applications through two rounds of competition to determine the winners. Judges first narrowed the field to three companies in each category weighing each company's business success, contributions to the community and industry leadership. A panel comprised of executives from the 2010 Business of the Decade winning companies then selected one winner in each category.
In considering Hypertherm, judges were impressed by the respect Hypertherm has within the fabrication industry and its reputation for technological and manufacturing excellence, the company said. In addition, judges cited the breadth and depth of Hypertherm's work in the community. From its Community Service Time program, charitable giving through the HOPE Foundation and its Substance Use Disorder and Recovery Friendly Workplace programs, to its workforce training and STEM program designed to create interest among school aged children in technology and engineering jobs in the Granite State.
"Hypertherm is humbled and honored by this recognition. It is beyond anything we expected, as we know the caliber of companies who call the Granite State home," said Evan Smith, Hypertherm's CEO and president. "As a company owned by more than a thousand Associates working in New Hampshire, we fully believe that the triple bottom line of people, planet, and profit go hand in hand and are advanced together in our community, especially now as we all face the challenges brought on by the current pandemic."