News
New 2018 Catalog from Manley Performance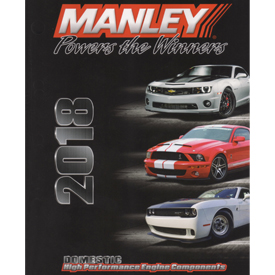 A multitude of new products and applications have been added to the Manley Performance 2018 catalog. The internal engine components manufacturer increased the catalog's size to 180 pages, even with the sport compacts parts now residing in a stand-alone catalog.
Manley Performance offers a large selection of stainless steel and titanium valves. The company also is known for its ultra-durable NexTek valve springs and companion steel and titanium retainers.
The Manley Performance catalog also details a large selection of one-piece chrome moly pushrods, Platinum Series pistons forged from the preferred 2618 alloy aluminum, as well as 4340 and 300M forged steel connecting rods. A wide array of forged steel crankshafts enable Manley to offer a collection of factory-matched rotating assemblies for small and big block, LS & LT Chevy engines, plus many Ford and Mopar applications.
The entire catalog can be downloaded, or it can be downloaded by section, at manleyperformance.com. A printed copy of the catalog plus a colorful Manley T-shirt is available for $10 directly from the company. Call 732-905-3366 for additional information.