News
NASCAR Recognizes Wendell Scott's 1963 Victory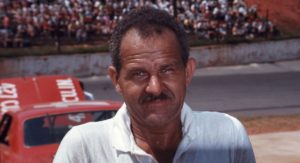 Before Saturday's Coke Zero Sugar 400 at Daytona International Speedway, NASCAR celebrated the legacy of NASCAR Hall of Fame driver Wendell Scott and presented the Scott family with a trophy commemorating the driver's historic victory on Dec. 1, 1963 at Speedway Park in Jacksonville, Florida.
A native of Danville, Virginia, Scott was the first Black driver to compete full time in the NASCAR Cup Series and his victory in the Jacksonville 200 marked the first race won by a Black driver at the sport's top level.
On that day in Florida, however, Scott didn't get to celebrate his win and didn't receive a trophy as part of the standard post-race presentation. At the end of the race, Buck Baker was flagged the winner and it wasn't until the official scoring review that race officials determined Scott had won the event by two laps – with Baker finishing second.
"It's quite an honor and a privilege to be here this weekend for this historic moment in time," said Frank Scott, Wendell's son. "I grew up at Daytona as a young teenager and a child and came here throughout my father's racing career. It's good to be back in this historic place."
Frank and his three siblings were joined at the track by a dozen family members including grandchildren and great-grandchildren. Steve Phelps, NASCAR president, and Brandon Thompson, NASCAR vice president of diversity & inclusion, were also on hand for the presentation.
"NASCAR is honored and delighted to have the family of NASCAR Hall of Fame driver Wendell Scott with us here in Daytona in the presence of the industry and the fans as we celebrate and honor the legacy of Wendell Scott and everything he brought to the sport," Thompson said.
"That historic moment (in 1963) wasn't celebrated in the way that it should have been," he added. "It is certainly one of the most iconic and monumental moments in American stock car racing history, but dare I say motorsports history."
During his NASCAR career, Wendell Scott competed in 495 Cup Series races and scored 147 top-10 finishes. He died in 1990 and was posthumously inducted into the NASCAR Hall of Fame in the Class of 2015.
On Dec. 1, 1963, Scott won the third race of the 1964 season, a 100-mile feature on the half-mile Speedway Park. He started 15th and led 27 laps, finishing first in a field that included future Hall of Famers Baker (second), Richard Petty (fifth), Ned Jarrett (seventh), Joe Weatherly (14th) and David Pearson (16th).