News
NASCAR Moving to Single Lug Nut Wheel for Next Gen Car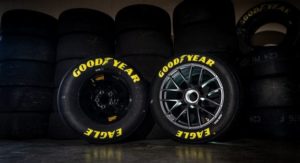 NASCAR officials have revealed that the Next Gen car for the 2021 Cup Series will have a single, center-locking lug nut for its wheels.
The setup made its debut in the Next Gen prototype's fourth on-track test earlier this week at Auto Club Speedway in Fontana, California. The three previous tests featured a larger aluminum wheel, but with the five-lug pattern that's been used in NASCAR for decades.
John Probst, NASCAR senior vice president of innovation and racing development, said the move away from a 15-inch steel wheel was part of an overall goal to provide more relevance and a stronger correlation to today's production cars with an 18-inch wheel, but that a strong enough fastener that could hold up under high-speed conditions was a necessity.
"For us we felt like from a standpoint of the wheel is that we wanted to get to an 18-inch wheel, an aluminum wheel," Probst said. "Once you get to an 18-inch aluminum wheel, the next step for us is to make sure that from a durability standpoint under racing conditions is that it will accept the durability that we need to finish races and then also finish multiple races. To do that, the single nut was our only option."
The look of a single-lug wheel will be a departure for the series, but other changes will be more miniscule. Probst indicated competition officials do not expect wholesale changes to the execution of pit stops, the five-person limit on crew members who go over the wall or team rosters overall.
"I think from a fan standpoint, the choreography of the pit stop will look unchanged," Probst said. "I think that a lot of times when we say single lug nut, people fear that it's an open-wheel style pit stop where people will be on their knees waiting for the car to come in. We don't intend to change anything with respect to how the pit-stop flow is executed."