News
NASCAR College iRacing Series Returns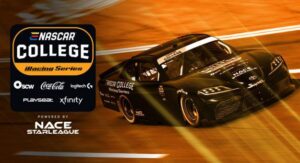 NASCAR is bringing back its eNASCAR College iRacing Series with a four-race fall series that kicks off at Homestead-Miami Speedway on Sept. 20, the sanctioning body announced.
"Expanding our presence in the college esports arena is important as we continue to reach new demographics and introduce them to the sport of NASCAR," said Ray Smith, director of gaming and esports at NASCAR. "We're looking forward to building on a successful spring semester and having more students explore the many opportunities NASCAR and our partners can offer them in their college years and beyond."
Earlier this year, NASCAR and NACE Starleague, a collegiate esports league, launched the eNASCAR College iRacing Series, bringing competitive sim racing to colleges and universities nationwide. Students representing more than 250 universities across the United States participated in this spring's three-race schedule.
Competitors will race NASCAR Xfinity Series cars on the iRacing platform and will be eligible to qualify for the season-opener through a 10-day time attack window, the organization said.
In addition to the competition, the eNASCAR Scholarship Fund will also return, awarding the highest finishers a combined $60,000 in scholarships.
Each time attack is open to all eligible students with the top 40 students who post the fastest qualifying times advancing to the race, organizers said.