News
Mullin Automotive Museum Launching Docent Tour Series on YouTube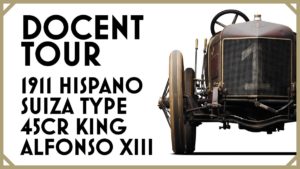 The Mullin Automotive Museum will debut a new six-episode series, produced and hosted by its docents, on its YouTube channel, the museum announced. Beginning Friday, Oct. 2, at 12 p.m. PT, and airing every Friday for six weeks, each episode takes viewers on an approximately 20-minute tour of the museum's most unique vehicles.
The first episode will feature the 1911 Hispano-Suiza Type 45CR King Alfonso XIII. Future episodes will highlight the 1929 Bugatti Type 43/44 (Oct. 9), 1935 Voisin Type C25 Aerodyne (Oct. 16), 1938 Tatra Type 87 (Oct. 23), the 1994 Bugatti EB110 Super Sport (Oct. 30), and the 1928 Lorraine Dietrich Type B3-6 (Nov. 6).
"At the Mullin, we have a committed group of docents who volunteer their time to become experts about our collection vehicles," said Mullin Automotive Museum founder and Executive Director Peter Mullin. "The new YouTube series showcases this expertise and dedication, and we're excited to share it with the rest of the world."
To follow the action, subscribe to the Mullin Automotive Museum's YouTube channel.