News
Motul Partners with Emelia Hartford to Develop New Transmission Fluid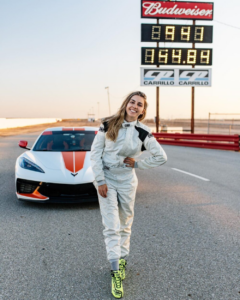 Motul has launched its new High-Torque DCTF fluid for use in high-performance Dual-Clutch Transmission (DCT) equipped vehicles, and partnered with driver and car builder Emelia Hartford to develop the new product, the company said.
Developed as part of Motul's line of motorsports products, the High-Torque DCTF fluid began initial development on the circuits of Japan with racing teams from the Super GT series, the company said. As development continued, Motul's laboratory desired data of the High-Torque DCTF fluid under extreme stress and sent an early formula of the fluid to Hartford for use in her highly-modified C8 Corvette. Hartford tuned the engine to 1,400 hp and 1,100 lb-ft of torque, allowing the twin-turbocharged Corvette to tear through the quarter-mile in 9.36 seconds at 147 mph, making it the fastest C8 Corvette recorded at that time.
"Race teams, performance shops and tuners have been the go-to venues for testing high-performance technologies," said Motul USA Brand Manager Nolan Browning. "In working with Emelia, we're able to test our new High-Torque DCTF at the upper limits of performance, refine it and be a part of her record-setting campaign."
The insights gained from this outing provided substantive information. Comparing the used fluid samples from the OEM Dual-Clutch Transmission fluid to the high-torque samples from Emelia's Corvette, Motul was able to further optimize the commercial product for its launch, the company said.
"It was incredible honor to be a part of the testing and development for Motul," said Hartford. "Never in a million years did I think I'd be working with a leading motorsport company to test some of their forthcoming oil on the world's fastest C8 Corvette."