News
Motovicity Picks Up BLOX Racing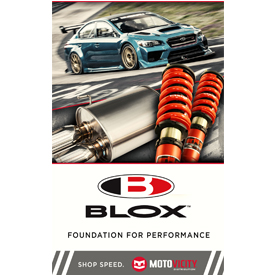 Motovicity Distribution has launched another premium brand onto its line card with BLOX Racing.
BLOX Racing, founded in 2003, is considered a relative newcomer to the import and sport compact aftermarket, according to the company. However, in its short time, it has quickly established a foothold in the marketplace and developed a reputation as a high quality, aftermarket parts manufacturer with an overall commitment to the utmost standards of production management and quality control.
BLOX Racing performance products have been showcased in custom shows on street cars, at race events -including the upcoming Never Lift Half Mile and Speed Ring-and relied upon in different forms of motorsports, such as drag racing, road racing, and drifting, accorind to the company.
"BLOX Racing is dedicated to the development of high-quality performance products and accessories for today's import and sport compact enthusiast," said Michael Choi, BLOX Racing's marketing director.  "Each product is designed and manufactured using the latest in cutting-edge technologies, processes, and materials and then tested using rigorous standards. Each BLOX Racing product is designed to work with one another, giving enthusiasts the proper foundation and building blocks for developing the right performance combination."
BLOX Racing products are now available for wholesale purchase through Motovicity Distribution. For product inquiries, call 888.SPEED.16 or visit Motovicity.com.