News
Motovicity Fuels Up with Radium Engineering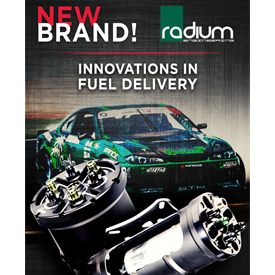 Motovicity Distribution has added Radium Engineering to its line card.
Radium Engineering offers a collection of motorsport parts and accessories for high-performance and racing, focusing on its fuel surge tank line and PCV oil catch can systems. This includes an ever-expanding collection of application-specific parts designed and produced for aftermarket performance that branches out into universal fuel system products and other engine-related accessories to fit anything from Evos to Mustangs, according to the company.
Radium Engineering's comprehensive line of fuel system components includes fuel rails, filter kits, components, and other specialized parts that help make up for the mass lack of quality and availability found throughout the industry.
The company sets itself apart by paying special attention to detail and utilizing well-thought-out design when making their products, according to Radium Engineering.
"All Radium products are carefully planned with thorough R&D and developed in-house using the latest computer simulation and modeling techniques. Extensive testing and evaluation ensures the performance of Radium products exceeds consumer expectations. For these reasons, top motorsports competitors and enthusiasts worldwide rely on Radium Engineering products," said Tina Powell, sales manager at Radium.
Radium Engineering's innovations in fuel delivery are now available for wholesale purchase through Motovicity Distribution.
For additional information, call Motovicity at 888.SPEED.16 to speak to a MotoRep and visit the industry-leading Motovicity.com.