News
Motovicity Adds E3 Spark Plugs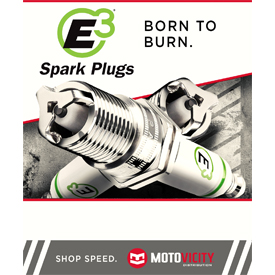 Motovicity Distribution has added E3 Spark Plugs to its growing line card.
Energy, ecology, and efficiency. That's what E3 Spark Plugs is all about, according to Motovicity, which has brought in the company's wires and coils. E3 products are used to help increase power, improve fuel efficiency, and reduce engine emissions with the use of DiamondFIRE technology.
The intrigue of the company's products comes from E3's patented "diamond-shaped" ground electrode which promotes flame growth through the shape of the opening into the heart of the air-fuel mixture and out the sides, according to Motovicity. Twenty years of racing focused research and innovation has made it possible for E3 to be a growing part of NHRA and NMRA as well as now finding themselves on the shelves at Motovicity Distribution.
"Our mission at E3 has always been reflected in our devotion to the advancements in ignition technology," said Rob Fisher, E3's marketing, sales, and light tech guru. "By focusing on improving the ignition cycles of the air-fuel mixture inside your engine's combustion chamber, our products are engineered to be environmentally friendly with a more complete and cleaner burn."
E3 Spark Plug products are now available for wholesale purchase through Motovicity Distribution. For more information, call 888.SPEED.16 or visit Motovicity.com.