News
Motorsports Welding Seminar a Success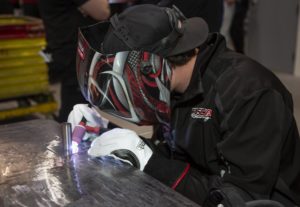 Lincoln Electric hosted its annual Advanced Motorsports Welding Seminar at the company's Cleveland headquarters. Representatives from NASCAR, IndyCar, the National Hot Rod Association and off-road racing gathered to learn about the latest in motorsports welding techniques and procedures.
The two-day seminar was held in the company's new Welding Technology & Training Center that opened early last year.
During the seminar, Lincoln Electric experts offered educational sessions on proper techniques using the GTAW process to weld lightweight materials such as stainless, Inconel, aluminum, chromoly and titanium used in motorsports fabrication.
"The company's comprehensive understanding of these and other specialty metals, as well as welding and cutting techniques, benefits the industry by providing racing teams, manufacturers and industry associations with the welding expertise to make cars that are not only more competitive but also safer to drive," the company noted in a press release.
Top racing teams in attendance included Penske Racing, Andretti Autosport, Schumacher Racing, Chip Ganassi Racing and John Force Racing
Speakers include: Dan Klingman, senior customer training instructor at Lincoln Electric; Wyatt Swaim, a leading expert in the TIG welding industry; Dennis Klingman, who retired as director of technical training at Lincoln Electric in 2009; and Scott Helzer, who has more than two decades of diversified welding experience and received a doctorate degree in the welding sciences from Texas A&M University.