News
Motorsports Safety Teams Take Center Stage in New Film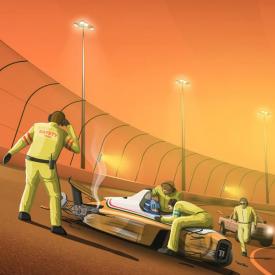 Two days prior to the 103rd running of the Indianapolis 500, many of the heroes of IndyCar racing gathered at the IMAX Theater in Indianapolis to view the world premiere of Rapid Response, a new feature film documentary.
Rapid Response explores the growth of motorsports safety and the extraordinary skills of the on-track safety teams and doctors who spearheaded the technical advances through the sport's most dangerous years.
The movie is a based on the book Rapid Response: My Inside Story as a Motor Racing Life-Saver, written by Dr. Stephen Olvey.
"Rapid Response has taken us four years to produce and we were very pleased by the strong turnout on Friday night," said Michael Miles, co-producer. "We knew that there was good interest in our film out there, but the number of people who joined us was well beyond our expectations."
"It was a night that we had thought about for a long time, and it was amazing and gratifying," said Miles' partner and co-producer, Roger Hinze.
Rapid Response highlights the deadliest era of racing with stark crash footage and the safety innovations that led the sport out of the dark ages. The movie features interviews with drivers such as Mario Andretti, Chip Ganassi, Bobby Unser, Al Unser, Parnelli Jones, Rick Mears and others
Both Olvey and his longtime racing safety partner, Dr. Terry Trammell, were on hand for the premiere. Following the movie, Olvey participated in a 15-minute Q&A and received a standing ovation, according to a press release.
NBC broadcaster and longtime motorsports broadcast and print journalist Robin Miller was also there to welcome the evening's attendees and introduce the film. Miller, who had viewed the documentary a few weeks prior, was also impressed with the response.
"It's a tough film to watch, but the message is so very important," he said. "Racing is a dangerous sport, and doctors like Stephen Olvey and Terry Trammell are outstanding examples of the people who have spent so many years of their lives perfecting the art and science of racing medicine."
Rapid Response will be in theaters nationwide on Sept. 6, 2019, according to the release.