News
Motorsports Industry Participates in SEMA's Washington, D.C., Rally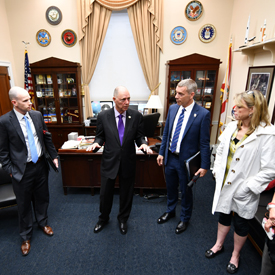 More than 110 representatives from SEMA visited the nation's capital last week to participate in SEMA's 2018 Washington Rally. Industry leaders took to the halls of Congress to remind lawmakers of the cultural and economic importance of the automotive specialty equipment industry and motorsports.
During the event, SEMA members urged Congress to pass H.R. 350/S.203, the Recognizing the Protection of Motorsports (RPM) Act. The bipartisan bill would protect Americans' right to modify street vehicles into dedicated racecars and industry's right to sell the parts that enable racers to compete, according to SEMA.
The RPM Act now has 145 cosponsors in the House and 38 cosponsors in the Senate. Members also raised awareness for other issues facing the specialty equipment industry, including tariffs on steel and aluminum, preventing higher ethanol content in gasoline and saving the Bonneville Salt Flats.
"I thank the SEMA members who took valuable time away from their businesses to fight for the issues that matter most to our industry, including the RPM Act," said Wade Kawasaki, SEMA chairman of the board. "This year's turnout makes one thing certain-our industry is committed to getting the RPM Act across the finish line in 2018. Passage of this bipartisan bill is the only way to ensure it is legal to modify a street vehicle into a racecar used exclusively at the track, now and into the future. It's time for Congress to act. We urge members of the House and Senate to pass the RPM Act and protect motorsports for generations to come."
This year's event, which was one of the largest SEMA rallies to date, according to the association, marks the 15th time representatives from SEMA have held a fly-in on Capitol Hill in Washington, D.C.