News
Motorsports Hall of Fame of America to Hold Dual Induction Ceremonies in Detroit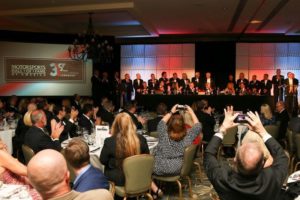 The postponed 2020 class and the newly selected 2021 class will be officially inducted into the Motorsports Hall of Fame of America (MSHFA) just days apart in a week-long celebration of motorsports in Pontiac, Michigan, Sept. 27-29, the organization announced.
The 32nd and 33rd annual MSHFA Induction Celebrations Presented by Firestone will be held in the brand-new Event Center at M1 Concourse in Michigan. The 2020 class will be inducted in a ceremony on Sept. 27, while the 2021 class will officially join the MSHFA in a Sept. 29 celebration.
"Because of COVID-19, we had to postpone the Class of 2020 induction originally scheduled for March 2020," MSHFA President George Levy said. "So, we're doing an induction 'doubleheader' this year honoring the Classes of 2020 and 2021 at M1 Concourse in Michigan in September."
The MSHFA will return to its normal March induction schedule in Daytona Beach next year with the Class of 2022.
"All of us at M1 Concourse welcome the Motorsports Hall of Fame of America and all the new Hall of Fame inductees to Michigan for these very special events," Tim McGrane, CEO, M1 Concourse said. "We believe our new event center at M1 Concourse will be an ideal location for these induction ceremonies, and we can't think of a more perfect way to launch the inaugural American Speed Festival than to welcome some of the greatest names in motorsport history to our facility."
The MSHFA Class of 2020 includes NASCAR's first-ever champion Robert "Red" Byron (Historic), flat-track impresario Chris Carr (Motorcycles), early motorcycle racer, promoter and publisher Floyd Clymer (At Large), driver, official and safety advocate Wally Dallenbach, Sr. (Open Wheel), Rick Hendrick, one of NASCAR's most successful owners (Stock Cars), Daytona 500 champion Tiny Lund (Historic), Can-Am and Rolex 24 At Daytona champion Jacky Ickx (Sports Cars), quarter-mile racing legend "Ohio George" Montgomery (Drag Racing) and multi-time Baja 1000 and SCORE Champion Ivan "Ironman" Stewart (Off-Road).
The MSHFA Class of 2021 includes one of NASCAR's 50 Greatest Drivers Davey Allison (Stock Cars), three-time land speed record holder John Cobb (Historic), three-time NHRA Top Fuel champion Larry Dixon Jr. (Drag Racing), Indy and NASCAR trailblazer Janet Guthrie (Open Wheel), 2006 MotoGP World Champion "Kentucky Kid" Nicky Hayden (Motorcycles), legendary Indy correspondent Robin Miller (Media), seven consecutive APBA Gold Cup winner Fran Muncey (Powerboats), multi-time USAC and NASCAR champion Ray Nichels (Historic) and world class timer/scorer Judy Stropus (Sports Cars).
Each of the MSHFA's inductees is elected by a straight vote among 200 motorsports experts — half of them inductees themselves. Regular voters include Mario Andretti, Tom D'Eath, Chip Ganassi, Don Garlits, Hurley Haywood, Parnelli Jones, Scott Parker, Richard Petty, the Unsers, Don Prudhomme and other titans of the sport.
The event will be held at M1 Concourse as part of American Speed Festival week. The week's calendar also includes the annual Heritage Inductee Luncheon on Tuesday. The four Historic inductees, two from each class, will be ushered into the MSHFA as a featured highlight of the daytime celebration.