News
Motorsports Hall of Fame of America Names 2018 Class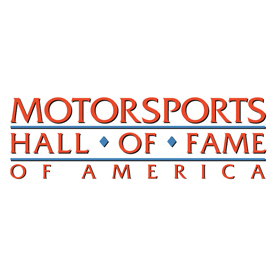 Seven men representing six motorsports disciplines and one iconic racing facility are included in the 2018 Motorsports Hall of Fame of America (MSHFA) inductee class.
The milestone 30th annual induction ceremony, presented by Bridgestone, is set for March 13 at The Shores Resort & Spa in Daytona Beach. Honorees include drag racing car builder John Buttera, Indianapolis Motor Speedway founder Carl G. Fisher, four-time Monster Energy NASCAR Cup Series champion Jeff Gordon, record-setting pilot and world-famous billionaire Howard Hughes, motorcycle great Fred Merkel, three-time Indianapolis 500 champion owner U.E. Pat Patrick and sports car legend Bob Tullius.
"Our inductee classes are always intriguing but this year is even more so," said Ron Watson MSHFA president. "Howard Hughes and Jeff Gordon in the same class-that is probably the best example we've ever had to illustrate the breadth of our inductee roll."
The MSHFA, which in recent years has hosted its induction in July, has moved the date for this year's ceremony. The switch puts the induction amid a bevy of March motorsports activity in Florida. The IndyCar Grand Prix of St. Petersburg, the Amelia Island Concours D'Elegance, the NHRA Gatornationals in Gainesville, the 12 Hours of Sebring, plus the AMA DAYTONA Supercross, American Flat Track's DAYTONA TT and the DAYTONA 200, as well as Bike Week in Daytona Beach, will all take place in a 10-day period that includes the MSHFA induction.
"This gives us great synergy, calendar-wise, with various motorsports series and events," Watson said.
The induction ceremony will be preceded on March 12 by the annual Heroes of Horsepower Reception and Dinner at the MSHFA Museum, located in the Daytona International Speedway Ticket and Tours facility.
MSHFA provided the following miniaturized biographies of each 2018 hall of fame inductee.
John Buttera-"Lil John" built championship-winning dragsters, funny cars and pro stocks for the biggest names in the sport in the 1960s and '70s, including Danny Ongais, Don "The Snake" Prudhomme, Tom "Mongoose" McEwen and Don Schumacher. The late Kenosha, Wisconsin native (and the "B" in R&B Automotive) moved to California after a chance meeting with 1990 MSHFA inductee Mickey Thompson at the 1969 U.S. Nationals. Characteristics of a Buttera car were simplicity, elegant design, a wicked stance and flawless craftsmanship. His cars not only looked amazing, they won races and championships. Later, Buttera built award-winning street rods and motorcycles and helped pioneer billet wheels and components. In 1987, on a shoestring budget, he redesigned a castoff Eagle chassis which qualified on the third row at the Indy 500, winning him the prestigious Clint Brawner Mechanical Excellence Award. During the '80s and '90s, Buttera designed parts and components for Edelbrock, Harley-Davidson, Bonspeed and others. He was inducted into the International Drag Racing Hall of Fame in 2010.
Carl G. Fisher-The late Carl Graham Fisher is best known as the man who created the iconic Indianapolis Motor Speedway. Earlier, the Greensburg, Indiana native helped popularize the automobile by competing against Barney Oldfield and others in a series of lucrative exhibitions on Midwest fairground tracks beginning in 1902. He repeatedly urged automakers to support plans for speedways, where they could prove the reliability of their products. When that failed, he persuaded three business associates to join him in the 1909 construction of Indianapolis Motor Speedway, serving as its president until 1923. Among his lesser-known activities were his leadership roles in the Prest-O-Lite company, which produced headlights for almost every early American automobile; the transcontinental Lincoln and Dixie Highways; and the establishment of Miami Beach as a resort destination. Fisher was inducted into the Automotive Hall of Fame in 1971 and the Auto Racing Hall of Fame in 1952.
Jeff Gordon-Jeff Gordon changed the face of NASCAR when he entered the sport in the 1990s. The Vallejo, California native is third all-time in Monster Energy NASCAR Cup Series wins (93) behind Richard Petty (200) and David Pearson (105). Gordon is fourth all-time in Monster Energy Series titles with four (1995, '97, '98, 2001), behind seven-time champions Petty, Dale Earnhardt and Jimmie Johnson. Gordon won three DAYTONA 500s (1997, '99, 2005), five Brickyard 400s and six Southern 500s. He also set an "Iron Man" record with 797 consecutive starts. Gordon began racing quarter-midgets at the age of 5 and by age 6 had won 35 main events. He was 1990 USAC National Midget Series champion, 1991 USAC Silver Crown champ and NASCAR Xfinity Series Rookie of the Year. He was the Monster Energy Series' top rookie in 1993. Gordon was named one of NASCAR's 50 Greatest Drivers in 1998 and inducted into the National Midget Auto Racing Hall of Fame in 2009.
Howard Hughes-One of the world's richest men, the late Howard Robard Hughes Jr. formed Hughes Aircraft in 1932, set numerous records and built some of the world's most advanced planes (Hughes H-1 Racer, H-4 Hercules "Spruce Goose" and XF-11). Born in Texas, Hughes showed mechanical aptitude early, building Houston's first "wireless" radio transmitter as the age of 11. After dropping out of Rice University, he produced films, including the seminal flying film, Hell's Angels (1930). In 1935 he flew his H-1 to a landplane speed record (352 MPH). In 1937, he beat his own transcontinental record, (Los Angeles to New York), in 7:28:25. In 1938, he circled the globe in 91 hours, obliterating Wiley Post's 1933 mark. His aviation awards included the Harmon Trophy (1936, '38), Collier Trophy, FAI Bibesco Cup (1938), Octave Chanute Award (1940) and a 1939 Congressional Gold Medal "for achievements in advancing the science of aviation and thus bringing great credit to his country throughout the world." He was inducted into the National Aviation Hall of Fame in 1973.
Fred Merkel-"Flying Fred" is an American road racing legend, winning two FIM Superbike World Championships (1988-89), three AMA Superbike Championships (1984-86) and setting multiple records along the way. The charismatic Stockton, California native started out riding on dirt but quickly moved to pavement. In 1983, he registered the first of his 20 AMA Superbike victories, a record that stood until 1998. In 1984 he won a record 10 Superbike races in a single season and his first of three straight AMA titles. That same year he teamed with fellow Honda rider Mike Baldwin to win the Suzuka 8 Hours Endurance Road Race. In 1988, Merkel won the inaugural Superbike World Championship and successfully defended the crown the following year. Merkel returned to the U.S. in 1994 to ride for Kawasaki, then Suzuki-"bikes considered past their primes but on which he nevertheless turned in scintillating performances. He retired at the end of the 1995 season after a crash at Firebird International Raceway. Merkel was inducted into the AMA Hall of Fame in 2001.
U.E. "Pat" Patrick-"Pat" Patrick made his fortune as a wildcat oilman and made his mark in open-wheel racing. His teams won three Indianapolis 500s and two IndyCar titles. Patrick began as a sponsor in 1967. By 1970 he was a partner in a team and by 1973 owned his own operation. His three Indy wins came with Gordon Johncock (1973, '82) and Emerson Fittipaldi (1989). The same duo brought him two championships, with Johncock in 1976 and Fittipaldi in 1989. Always looking for an edge, Patrick commissioned his own cars in the late 1970s, named Wildcats in deference to his roots. Patrick was also among the car owners who established the breakaway Championship Auto Racing Teams (CART) sanctioning body. The directors, which included Hall of Famers A.J. Foyt, Jim Hall, Dan Gurney and Roger Penske, elected Patrick their first president. Patrick also led the effort to form the Indy Lights series in 1986. Today, Patrick still strives to innovate through alternative fuel-powered racing engines. He was inducted into the Auto Racing Hall of Fame in 2016.
Bob Tullius-Tullius created the model for the modern American amateur sports car team and built Group 44 into one of the most successful ever. Group 44 was the first to combine manufacturer support (British Leyland), title sponsorship (Quaker State), immaculate preparation, ubiquitous branding (from transporter to cars to uniforms) and lots of speed. The two-time Trans-Am and four-time SCCA national champion began his career in the early '60s driving white Triumph TR4s wearing No. 44. Over the next 25-plus years, green-and-white Group 44 cars would net more than 300 victories in club racing, Trans-Am and IMSA GTP competition, plus capture14 national titles and three Trans-Am championships, many of them with Tullius behind the wheel. The team's self-built Jaguar GTP car won four races in 1983 against the dominant Porsche 935s -" with Tullius finishing second in points -" and the '86 season finale at Daytona. In 1988, the team ran Audi's Trans-Am program, taking eight out of 13 races and the drivers' championship for Hurley Haywood. Tullius was inducted into the SCCA Hall of Fame in 2014.
Tickets for all 30th annual MSHFA induction activities can be purchased by calling 386-681-6843, or visiting the MSHFA website at mshf.com.