News
MotorsportReg Launches New Electronic Waiver Service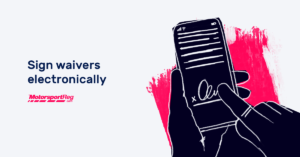 MotorsportReg has launched a new electronic waiver service, SpeedWaiver, that will allow racing organizations and participants to digitally sign and access liability waivers, the company announced.
"The COVID-19 global pandemic has us all looking for ways to engage in our hobbies with more physical distance. Over the last few weeks, we've heard loud and clear that electronic waivers are no longer a nice-to-have but are now a must-have. The ability to sign a waiver is imperative to running safe events," the company said in a statement announcing the new program. "Today we are answering that call with the launch of SpeedWaiver, our innovative motorsport-specific electronic signature system."
The system, which is free for participants, enables event organizers and racers to digitally collect, store and find signed waivers all from a smartphone. No download or app install is required.
SpeedWaiver will be available sometime in June and does not require use of MotorsportReg.