News
Motor State Distributing Honored with Export Achievement Award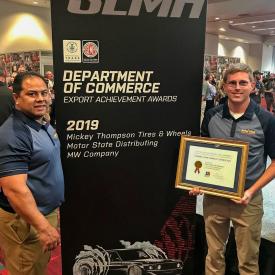 At the 2019 SEMA Show, Motor State Distributing was honored with an Export Achievement Certificate by the United States Department of Commerce. Nominated by fellow businesses, elected officials, and community leaders, recipients of this award are recognized for their successful entry into the export arena or into a new international market.
The award was presented at a special ceremony on Nov. 6 at SEMA's annual trade show in Las Vegas, Nevada. Accepting the award on behalf of Motor State Distributing were Darren Lane (B2B eCommerce and international sales manager), Robert Ledesma (international sales team lead), and Geof Kiekenapp (new accounts manager).
"This award is an incredible honor for Motor State Distributing. We thank our customers around the world who have made this achievement possible," noted Darren Lane. "As we continue to grow our international dealer network, we remain committed to providing excellent customer service and unmatched selection to our dealers in every market. In addition, the 24/7 availability of PriceGuidePro.com, our web-based dealer portal, makes ordering easy, and provides real-time access to pricing and inventory levels, regardless of where a customer may be in the world."
Motor State Distributing is a Michigan-based wholesale warehouse distributor of racing and performance automotive parts for the street, track, and off-road markets, serving dealers across the United States, Canada and in more than 35 countries around the world.