News
Motor State Distributing Adds Vintage Wires Line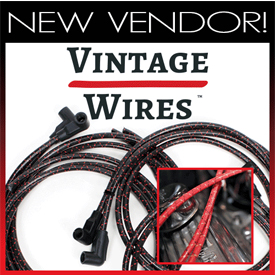 The Vintage Wires product line is now available at Motor State Distributing.
Vintage Wires mates old-school vintage style with modern technology-the old-school look of classic fabric wires built with advance spark-carrying technology, brings aesthetics into the hot rod marketplace.
Vintage 7.8mm wires feature a spiral wound suppression core, EDPM silicone insulation and a lacquer covered cotton braid. Vintage Wires offers a variety of color combinations to fashion classic hot rods: black with two orange cross tracers; orange with red and black cross tracers; red with black and yellow cross tracers; black with red cross tracers, yellow with black and red cross tracers and solid satin black. Universal ignition cable kits are also available in straight, 90 and 135-degree spark plug boots for six and eight cylinders.
For more information, visit www.motorstate.com or call Motor State Distributing at 800-772-2678.